Why I Migrated My Site to Cloudways
From Hostinger To Imotion Hosting
Reason One
Back in 2020, I started one of my blogs with Hostinger with a promotional price for a year. I was happy with them until I uploaded a number of posts and make some customizations.
When I went to Google page speed insights and Gtmetrix. I found that my site was loading slow. The recommendations I found below on Google page speed insights and Gtmetrix was the server response. So I went to customer support and chat with them but they told me that you can upgrade your plan which provides more resources and faster server response.
Reason Two
So I have to upgrade, I went to the upgrade button and clicked on it what I saw is the price, got shocked. I know hostinger is the cheap web hosting but renewal charges that burns my budget (that's why I liked Cloudways Transparent pricing so much). So I was unable to upgrade the plan due to a tight budget. Even later I was unable to renew my plan due to High renewal charges. In this way, I migrated to Inmotion Hosting.
From Inmotion hosting to Cloudways
It was not easy to migrate the site from hostinger to Inmotion hosting. I faced a lot of issues when I was migrating my site using the migrator tool. Every time got a fail response from one of these hosting servers.
So I went to customer support they migrated my site successfully. I really appreciate the work of Inmotion hosting. But the migration took me a week (In cloudways I just migrated my site within a couple of minutes without having any issues). It was hard but I migrated with the help of customer support.
Later I faced DNS issues in Inmotion hosting which to me another week to fix (It took me a couple of seconds without having any issues when pointing my domain to cloudways). That's another dark part of the hosting.
I never checked the speed of inmotion hosting so I don't have any concern about it.
Reason
So now my hosting was about to renew. While reading my notifications I found one from Inmotion hosting saying that the payment has been failed due to insufficient funds.Without taking the time I logged in onto Inmotion hosting. Really got shocked about renewal charges which was 10x higher than my introductory offer. I was frustrated about my budget. For small bloggers who are just starting the price really matters to them.
Doing some research In order to switch to another web hosting I found cloudways with the answer to my question "Transparent Pricing", "Pay as You Go Model". So I migrated to cloudways.
Use TREAT22 to get a 30% extra discount
I'm not promoting cloudways just for a commission you can signup from another link. This is my honest opinion to all from small to large businesses. I'm sharing my experience.
Below you can explore some features about cloudways that are not all there is a lot left that cloudways provide.
Overview
With the demand for web hosting escalating day by day, there are many new entrants coming into this niche.
Co-founded by Aaqib Gadit, CEO, and Pere Hospital. It is a leading web hosting provider that specializes in cloud hosting.
No Renewal charges
First of all my favorite part of Cloudways is its transparent pricing. They don't charge any renewal fees as others do, You will pay what you see till the end, and locking you can cancel anytime.
Freedom of choice
Cloudways is a hosting service that provides you with the freedom of choice. You can choose from a variety of hosting solutions and pick the one that suits your needs best. Cloudways hosting simplifies web hosting by giving you the freedom to use any cloud provider, and any operating system. This allows you to choose what is best for your business without restrictions.
Cloudways offers a range of different hosting solutions for enterprises, developers, and beginners.
Cloudways supports WordPress as well as other popular frameworks Laravel, Magento, Lavarel, and PHP.
Cloudways Interface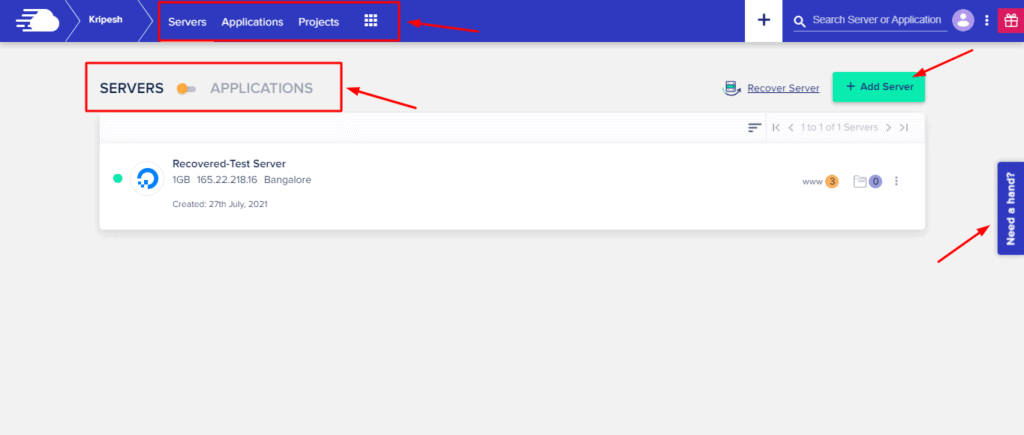 The Cloudways interface is very user-friendly and easy to use. It has a dashboard that provides you with all the information you need in one place, whether it's your account details, server stats, or an overview of your site's site speed.
Cloudways Data Centers
Over 65+ data centers are available to choose from on Cloudways. It is a hosting platform that provides the best infrastructure for your website.
They offer an easy-to-use interface and have a variety of server locations to choose from. Some of their most popular data centers are located in the USA, Germany, Singapore, England, Canada, and the Netherlands.
The company also offers other hosting services such as Vultr, Google Cloud Platform, and AWS which will provide you with more options when it comes to choosing your desired location.
Cloudways Backup Options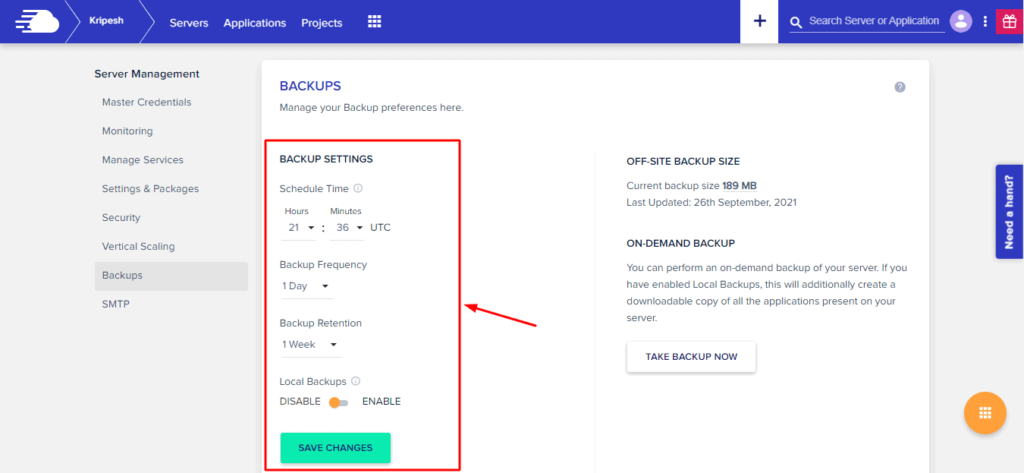 Cloudways offers three types of backups:
Manual,
Scheduled,
Local Backup.
The manual backup is the most basic option and can be done by the user whenever they want to do it.
The scheduled backup is when Cloudways automatically backs up your server at any given time you set.
And the Local Backup is where Cloudways will store your data on your local server.
Cloudways Customer Support
Cloudways is a cloud hosting company that provides its clients with the best customer service. They have a 24/7 customer support team that is available to help their clients with any issues they might have.
They have 3 customer support add-ons
The Standard support which is free and available 24/7.
The Advanced support add-on includes the deployment of additional PHP packages and NGINX/Varnish specific configurations.
The Premium support add-on comes with a Private Slack channel and phone support. This add-on costs $500/month!
In addition to this, it offers self-help articles and FAQs for its customers.
Plans
Cloudways is a cloud computing company that offers affordable and scalable cloud hosting services. They offer a range of plans for their customers to choose from, which are based on the number of CPU cores and the amount of storage space needed.
Pricing for Cloudways starts at $10 per month for 1 CPU core and 25GB storage space and 1TB bandwidth.
Each additional core costs an extra dollar, while each additional gigabyte of storage costs an extra dollar as well.
The part I like is that they have a 'Pay as you Go' payment system which means you only have to pay what you've used and how many days you have used it, if you use one of their servers only for one week you then you have to pay the amount for a week only.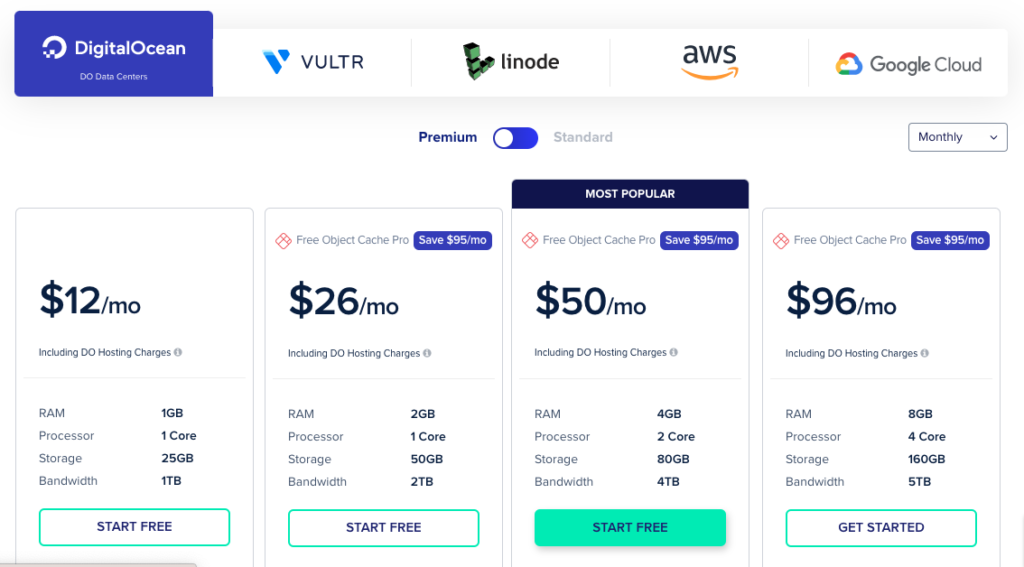 Cloudways provides an Astra Pro theme
Cloudways is a cloud hosting company that offers a variety of services to its customers. One such service is the "Astra Pro" add-on which you will get free for the first year.
Website Monitoring
Cloudways offers a variety of features for users who are looking for managed cloud hosting services. One such feature is the ability to monitor your website traffic and other important metrics like status codes, URL requests, bot traffic, and IP requests.
Security
Cloudways hosting is a managed cloud hosting provider that provides a wide range of security features to keep your website and data safe. It provides
2FA
SSL
Bot protection
End-to-end Encryption
Server Monitoring Alerts
Database Security
Operating System Security
Suspicious Device Login Control
GDPR Compliance
Partnered with BugCrowd to crowdsource vulnerability discovery in Cloudways Platform.
User Role Management
They also have Firewall and IP blocking to protect your website from any potential attacks or hacks.
Cloudways Refund Policy
Cloudways has a 3-day trial period. If you are not happy with the service you can use it after the trial but they don't have a refund policy as other hosting providers do.