I'm going to be speaking on the top 5 free WordPress themes. So really fast what is a theme and why do we need one. Well, most of the time you're going to be using a page builder like Elementor or Beaver builder or Gutenberg or any of those other ones.
You're going to be editing the meat of the website but the top and the bottom, the header and the footer. You're going to be using the theme for.
You can create any site you want with page builders. So if there's one thing to take away from this article to choose your theme based on your needs and its backend capabilities.
Now if you're not using a page builder you will actually be using these themes to customize the page itself as well. They do come with certain customization capabilities.
To be a little bit more specific a theme basically just gives you more customization power over your
Fonts
Colours
Stylings
Layouts etc.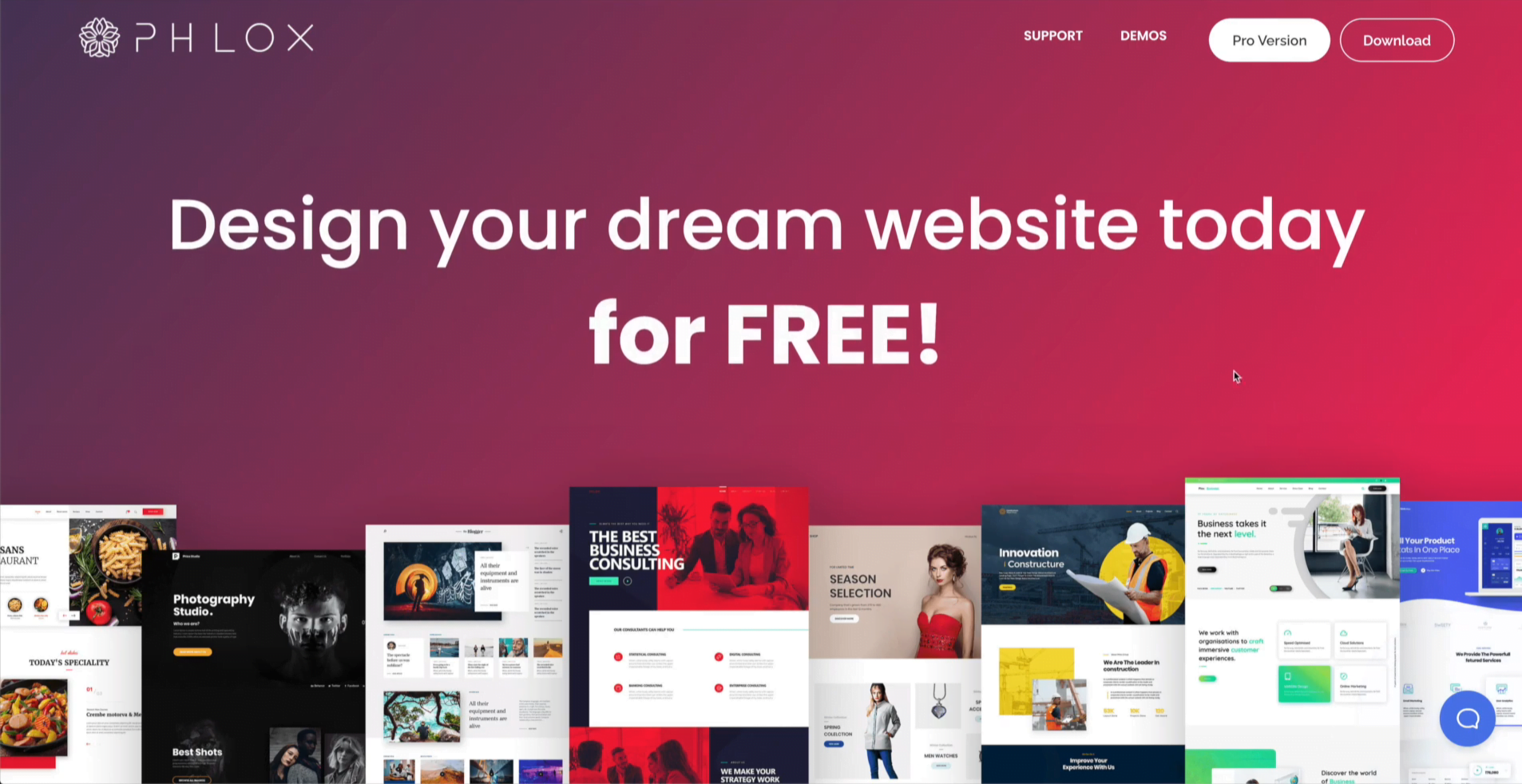 Let's get started the first thing that I want to get into with all of you is in the middle on customization and ease of use.
Phlox is unique in that it provides motion effects for the loading screen and template motion effects for the entire page. I thought that this was a very interesting feature. While in the customization tab you can choose from different page motion effects that automatically take care of animating your site for you.
The pre-loading animations are pretty cool too. You have options like a loading bar that you can customize which's pretty cool. Another thing that it offers is a unique back to top button that's sticky to the bottom of the page which has interesting motion effects as well.
It was the cleanest most professionally animated back to top button that I've seen without having to do any editing or customizing too. Maybe you all don't geek out over things like that but I wanted to go over it.
In addition, you can also go to the appearance tab and show the website frame and other aesthetic options as well.
Overall I was impressed with the amount of animation that the site achieved from a stock point of view. Most of the time in order to get your website to look this animated and professional in terms of motion effects. You have to change a lot of settings on individual buttons and that takes some time.
So the fact that this one was a cookie-cutter motion theme that was pretty cool. Now, these are some interesting concepts for this theme. However, it doesn't offer a transparent header much less a header builder or footer builder in the free version. So I personally wouldn't use it.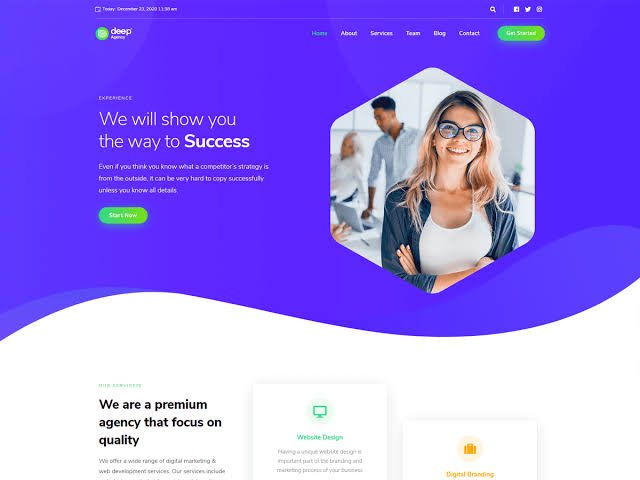 The next thing that I want to talk to you guys about is called deep. This theme has one of the most powerful and detailed header and footer builders that I have seen. You could use this theme if you're comfortable not using a web page template. Because Deep doesn't actually provide templates rather it gives you a demo importer which essentially just a theme importer.
All that it downloads is stuff like fonts and colours. It'll give you pages but they're just completely blank. It does however come with a lot of unique features like smooth scrolling, back to top buttons and much more.
You even choose from style layout options for blogs which is cool too. But the best thing that I thought about this theme and that was incredible is that. In Elementor you get 50 new widgets that you can use which is a huge plus for someone who uses Elementor all the time.
Most of the additional widgets that come from deep usually have tons of types or styles within the widget so I thought that was pretty sweet. Another thing that I noticed is when you download the theme for deep. You will have an incredibly limited capability when it comes to editing your header and footer.
In order to get the header and footer builder, you'll have to download the actual Deep core theme. You can do this by just going over to the add plugins tab on your WordPress dashboard and then searching Deep Core.
Now, this is actually the case with a few of the other themes on this list. So I thought I would just mention it to you.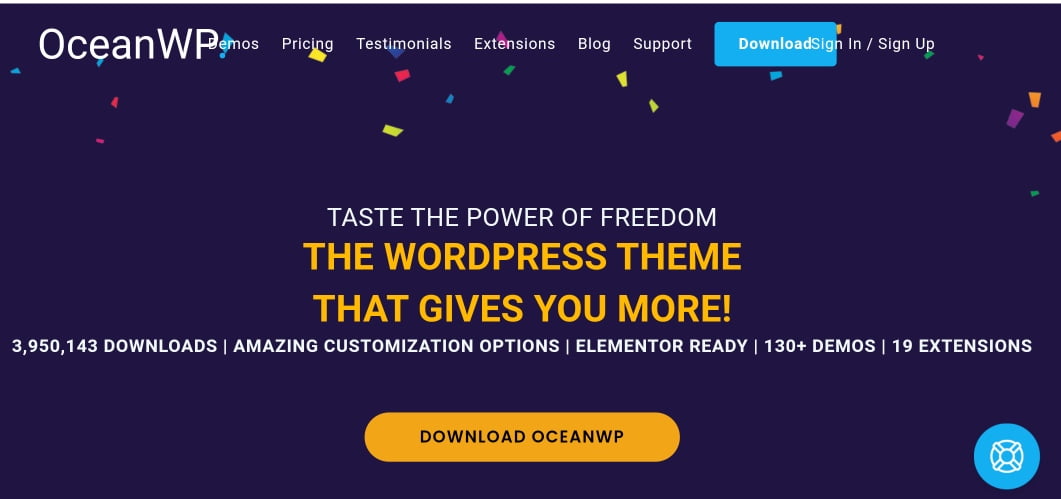 The next thing that I want to talk to you guys about is one of the longest and most used themes in the WordPress repository. OceanWP is a powerful theme that has tons and tons of customization options and capabilities. On the other hand, I felt like it was a bit too cluttered and a little overwhelming. In that the customization tab seems unorganized and has too many options.
For an experienced web designer finding out where everything is was not hard. But for beginners this could prove difficult to make something unique. You would have to use something like the Elementor header and footer blocks plugin which is just a plugin that you can download.
Now OceanWP does have a basic header settings tab and does offer a transparent header which a lot of themes don't for the free version. So I thought that was kind of nice.
It does however have a top bar so you can enable it and then enter in some social icons.
I would venture to say that OceanWP does have some additional features compared to the other themes on this list. But they're not that special it has a back to top button which is nice pretty plain. It offers a page customization tab a top bar, a header without a header builder. So that's a little complicated to use and then also just a blog post customization.
I would definitely recommend downloading it and trying it out and giving it at least a good experience. But I personally don't use it but I used it for some time when I started my website.
After downloading a theme you can always go back and deactivate it at any time. So it doesn't hurt to try it out.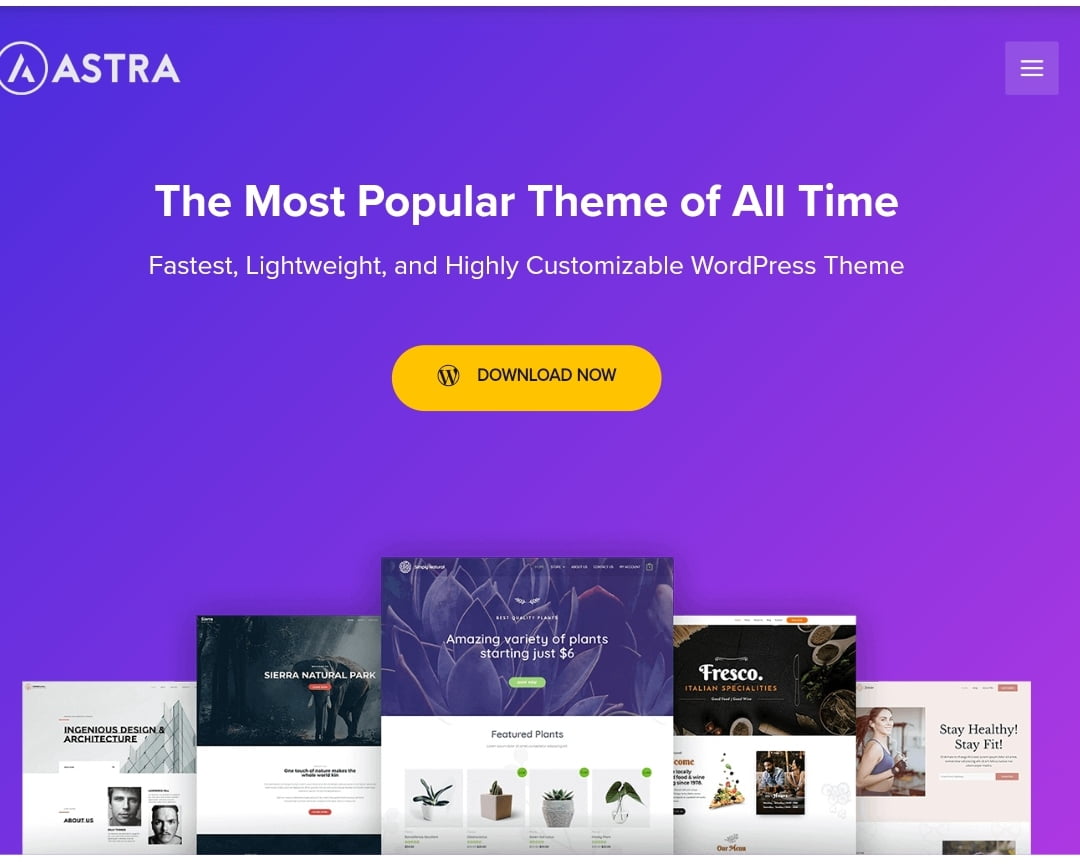 The next theme on my list is my number one but not necessarily my personal favourite. Astra has a huge repository of templates out of all of the other themes. And they have some of the best looking templates as well.
Now the design quality can be a bit subjective of course. But I personally like the templates on Astra a lot more than the other themes. The reason I like Astra better than OceanWP is mostly for the starter templates.
Astra offers 70 templates with 35 of them being available for free use. Oceanwp offers 73 in their library but it only offers 13 of them for the free version. So you have a lot more to work with when it comes with Astra.
In addition in terms of free use only I think that Astra is the much more appropriate choice. With its starter templates along with the plugins and extensions that are available for free with Astra. I think it's the best theme for the beginner website designer.
The downside would have to be that it's rather limited in its design capabilities. It has much fewer options in customization than the other themes on this list like oceanwp but that's it. I personally don't think That there are any other downsides to Astra And that's why I use it so much.
I always use Astra because for beginners designing a slick website is hard. So the templates are a huge benefit for me teaching people who have no experience.
On the other hand if you're already very familiar with Elementor and you believe that you can create some stunning designs. Then you can choose a different theme With other cooler options than this.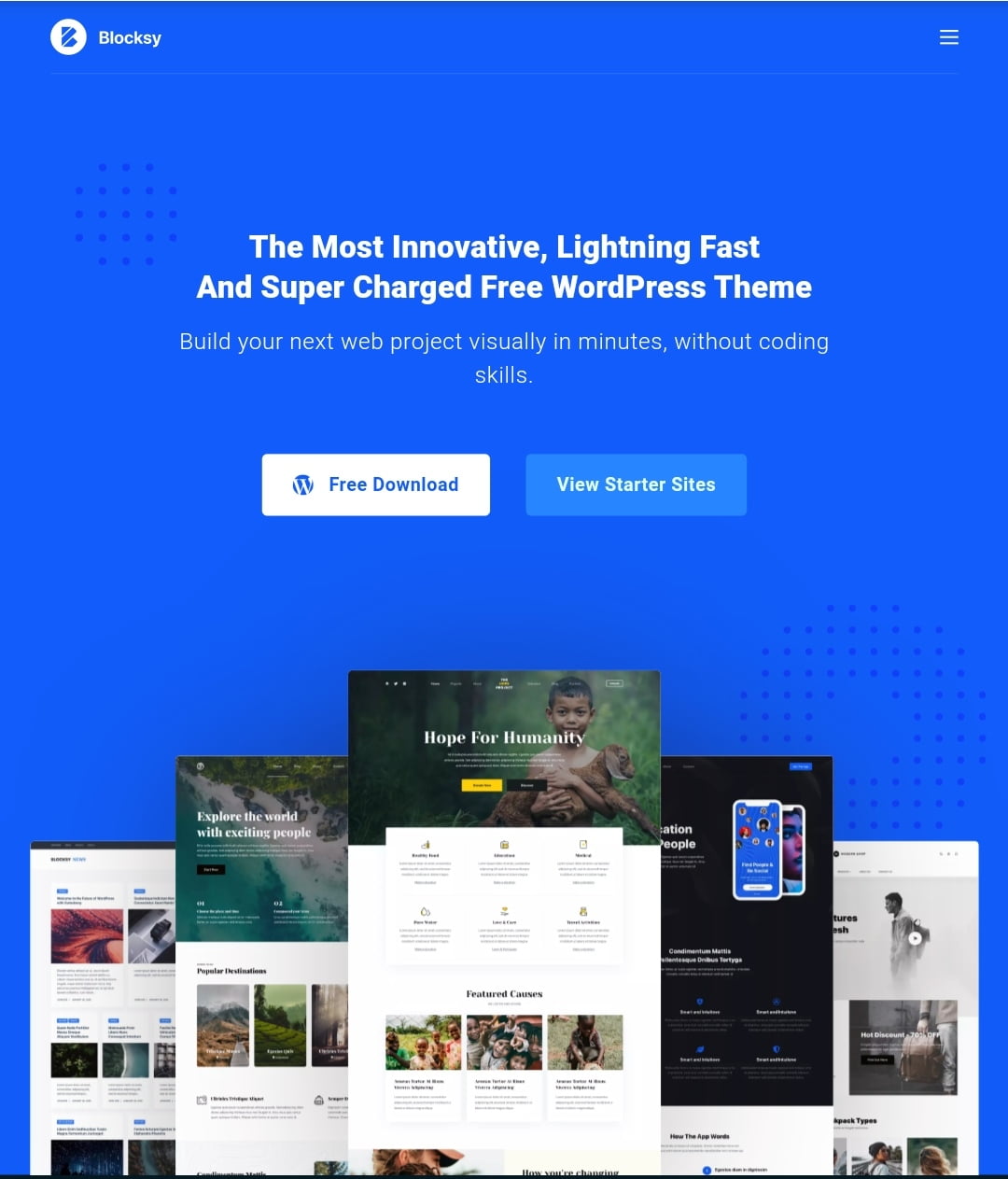 I personally like to use the Blocksy theme because it checks every box that I have when it comes to picking a theme. It also has some pretty awesome features on top of that. Blocksy definitely supports Elementor which is my preferred page builder.
It also highly rated and respected and it is also perfect for what I plan to use it for. Remember when I said at the beginning to pay attention to the back end of the theme.
Well, I think that Blocksy has the most organized backend of all the themes. It also has a super easy switch from the light and dark theme. I believe that this is my favourite theme when it comes to creating websites because of its capabilities.
It has the best of everything that I like to offer when it comes to themes. It has a back to top button transparent header, header and footer builder. It's just as detailed as deep by the way. Website frame that's customizable, blog customization and starter templates.
Now you have to download the Blocksy companion plugin. Which is the supporting plugin similar to oceanwp. Where you have to have that supporting plugin in order for it to work properly. But I think it's the best theme out there still.
The header builder is incredibly complex and powerful but not complex in a bad way. It gives you full control of the header and the other headers as well. What I mean by this is you're able to copy headers from page to page and then edit them individually for different pages which is pretty cool.
Another really cool feature is the off-canvas menu where you can actually have a hamburger icon in the top corner and then customize a menu to appear when triggered. Once it's triggered you can then fully customize the background the widgets the logo and everything else from colours to fonts.
I think this off-canvas menu is pretty awesome.
So at the end of the day, I think that the Blocksy theme is the best out of all the other themes. That's why I use it the most.
If you're looking to get started today for your website then go-ahead to get a huge discount on your web hosting.
Alright if you have any questions please leave a comment with your question down in the section below. I'll see what I can do to help I personally respond to as many as I can.